We've been teasing you with the idea of Eventivize over the past few weeks, diving into the Venezuelan rave scene, finding our inspiration from the virtual concert at the Memorial to the Murdered Jews of Europe, and discussing the problems that we see in the music industry. Finally, we want to share the details of this project with you — in return, we want your feedback, thoughts, critiques, and hopefully support!
Ape Unit is incredibly proud to be partners with both CTM Festival and the Interchain Foundation/Cosmos Network on building Eventivize.
The Cosmos SDK lays a solid foundation for us to build upon and our relationship with the ICF and Cosmos Network will be pivotal in making Eventivize both extremely scalable and usable. Additionally, CTM Festival is generously providing us with the platform where we will first implement Eventivize and have the opportunity to see our vision come to life!
So...we have a problem
Ticketing conglomerates, such as Ticketmaster, control more than 70% of the primary ticketing services market and leverage their size to take a large portion of events' revenues. Beyond the facade of their oligopoly, ticketing companies often deploy anti-competitive tactics to eliminate the ticket resale market and other small sellers (resellers often face class-action lawsuits). Behaviors like these make the need to explore and devise new ways to limit or eliminate anti-competitive companies apparent. Doing this would allow a higher proportion of music industry revenues to go to artists (who currently receive only 12% of revenues).
What did we learn
Our conversations with industry insiders pointed out that aside from social media, there aren't many other ways to deliver useful feedback to artists, event organizers, or event promoters. Given that promoters and organizers rely partly on these interactions as metrics to curate festivals or book shows, there is a bias toward social-media-savvy/famous artists. In contrast, new and up-and-coming ones enjoy few benefits. In other words, social media has become the tide that lifts all artists...with name recognition. In contrast, more famous artists are awarded a disproportionally large share of profits, while lesser-known artists receive next to nothing. Among other reasons, their pay is largely related to their name recognition in the online sphere — completely independent of their performances. Therefore, there is an unfairness in how the industry quantifies the value of artists — social media platforms have disproportionate power.
Our solution
Eventivize is both a direct link between artists and audiences at live events and a token system that can be employed to cut through the organizational and bureaucratic steps in ticket sales and management.
Our token system
Drops — given back to you from a percentage of your ticket cost, audiences can use Drops to reward artists/performers at the event.
Unity Tokens — reward for audience members who distribute their Drops to artists, used to receive discounts and special offers on future events
After purchasing an entry ticket to a live event, audience members will receive an Eventivize QR code preloaded with a set number of Drops. Using the QR-scanner built into their mobile devices' camera app, they will be directed to a mobile-optimized web application (a personal wallet). This wallet allows them to view and distribute their Drops to their favorite artist. It's simple and easy, you don't have to download anything.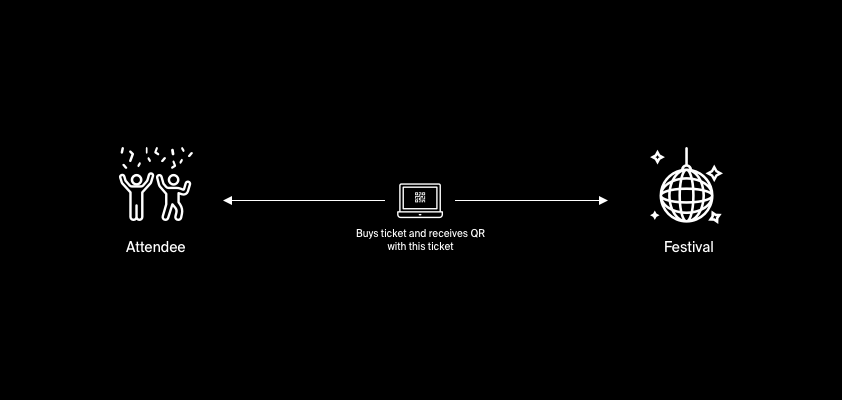 The Drops' monetary value is set by the organizers who implement our token system. By transferring a monetary value, Eventivize becomes an interactive and transparent way for an audience to reward artists, based on their performances. This way, emerging artists with amazing performances are awarded additional income.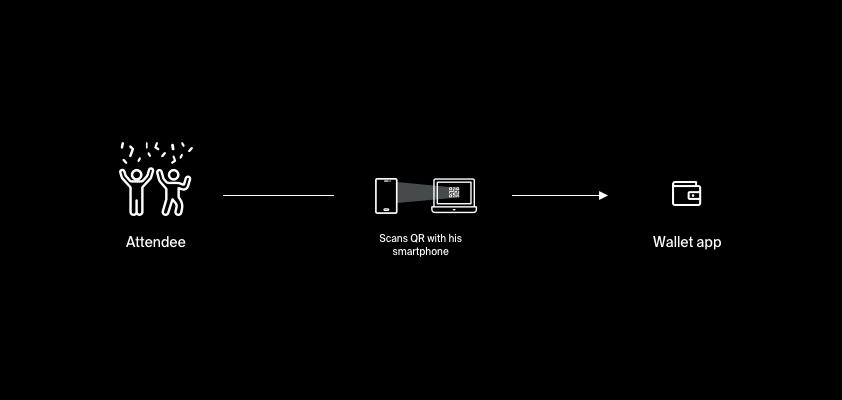 The primary function of Eventivize is to provide the user with a way to express their feedback by rewarding their favorite artist based upon their performance with Drops.
To distribute Drops, audience members just need to scan their favorite artists' QR codes in their personal wallets. Then, they can select the number of Drops they want to award and hit 'send.' It's similar to Paypal QR-code payments.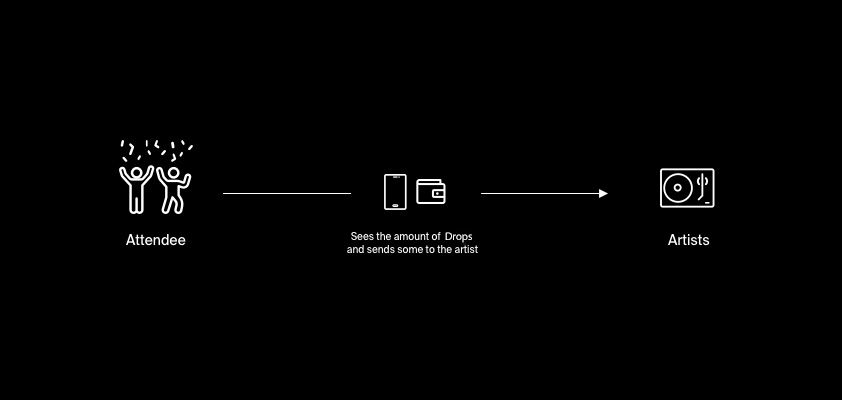 Eventivize will give back Unity Tokens (the organizer and Eventivize previously decide their value) to audience members who distribute all of their Drops. Unity Tokens act as coupons and can then be used to get discounts and special offers for future events, merchandise, and other purchases.
Our mobile-optimized web app keeps the reward system independent from the platform that is hosting the event. This way, we can ensure that tips are distributed fairly to the artists. Event organizers can continue using any platform of their choice. Our QR codes can be displayed as images, appear in live streams, or be visible on location - allowing frictionless integration with every physical and digital platform.
To summarize:
Event organizers give Drops to their audience as a part of ticket sales
Fans can award Drops to their favorite artists
Emerging artists are rewarded and empowered for their performances.
The benefits
Besides distributing revenues more fairly to artists, we see Eventivize creating value in several ways:
Benefits for organizers: Eventivize will generate useful insights for organizers and encourage customer spending. It will provide the infrastructure that allows organizers to have a more accurate overview of their events, informing their selection of artists at future events. The insights that the distribution of Drops provides will build a closer synergy between audiences' wishes and the curation of lineups at future events. Additionally, Unity tokens will incentivize people to purchase merch and return to future events.
Benefits for audiences: Audiences can empower and engage with emerging artists. Eventivize enables audiences to support lesser-known artists by allowing direct transfer of value as appreciation for their performances. The Drops are detached from fiat money to reduce the psychological barriers for audiences to transfer them to artists and others in the ecosystem. Ultimately, audiences will receive discounts and special offers for participating in Eventivize.
Benefits for artists: Beyond the additional revenues they will receive, artists will gain real-time insights about their performances, engagement, and audience.
A bit about our mission
The music industry is complicated, competitive, and many times unfair. We want to build a platform for great artists to be recognized and rewarded for their talent at live events. We believe that artists are essential and should be acknowledged for their talent, vision, and passion. That's why we made Eventivize, to redefine the event-ecosystem, and put artists first.
We're super excited about Eventivize! After reading all about it — let us know what you think. If you want to partner with us at your event, or if have any questions or comments, send us an email at eventivize@apeunit.com! We'd love to hear from you!

Find the the entire Eventivize series here: blockchain/https://blog.apeunit.com/tag/eventivize/